DIFFERENTIAL SCANNING CALORIMETRY (DSC-DPC)
Equipment Details:
Make :  Mettler Toledo
Model :  821
Technical Specification:
| | |
| --- | --- |
| Temperature Range | -RT to 400C |
| Measuring Range | +/- 140 mW to +/- 350 mW (depending on temperature and sensor type) |
| Heating Rate | 0.02 to 300 K/min |
Equipment Photo: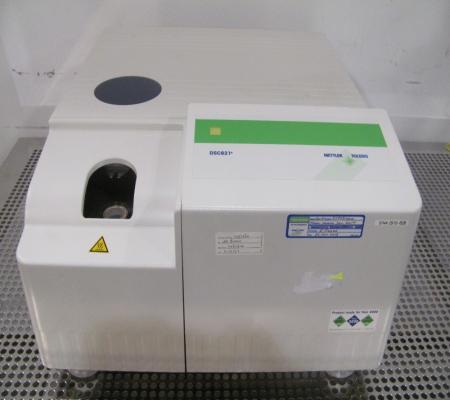 Applications:
Differential scanning calorimetry can be used to measure a number of characteristic properties of a sample. Using this technique it is possible to observe fusion and crystallization events as well as glass transition temperatures Tg. DSC can also be used to study oxidation, as well as other chemical reactions.
Contact Person:
I). Dr (Mrs) Shany Joseph (Instrument in charge) Office No: 020-25989273 ext 207
Email id : shany@cmet.gov.in
Characterization Incharge, Office no 020-25989273
Working Principles:
Differential scanning calorimetry or DSC is a thermoanalytical technique in which the difference in the amount of heat required to increase the temperature of a sample and reference is measured as a function of temperature. Both the sample and reference are maintained at nearly the same temperature throughout the experiment. Generally, the temperature program for a DSC analysis is designed such that the sample holder temperature increases linearly as a function of time. The reference sample should have a well-defined heat capacity over the range of temperatures to be scanned.