FLUORESCENCE SPECTRO PHOTOMETER
Equipment Details:
Make : Hitachi
Model : F-2500
Technical Specification:
Photometric principle      

Monochromatic light monitoring with ratio calculation

Wavelength range

(Excitation and emission sides)

220 to 730 nm, and zero-order light

Extendable up to 800 nm using an optional detector

Resolution

2.5 nm

Wavelength accuracy

±3.0 nm

Wavelength drive speed

 12,000 nm/min

Photometric value display range

0.000 to 9999
Features:
Capable of delivering sensitivity two times higher than the conventional model. (S/N ratio: 450 or better).
Equipped with a multi-step slit of 2.5 to 20 nm, making it applicable to a variety of samples.
Incorporates flexible software features such as versatile quantitative analysis function, data export function for Excel, print preview function, etc.
Easy to control with a mouse in an icon-based operating environment.
Equipment Photo: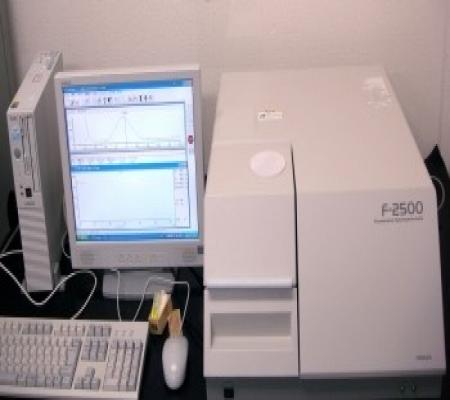 Contact Person:
I). Dr Sunit Rane (Instrument Incharge) Office No: 020-25989273
Email id : sunit@cmet.gov.in
II) Characterization Incharge Office no 020-25989273
Working Principles:
Working Principle:
Emission Spectra are recorded by choosing appropriate excitation wavelength and scanning wavelength with the emission monochromator. The emission spectrum further distorted by the wavelength dependent efficiency of the emission monochromator and photomultiplier. The emission spectrum can also be distorted by absorption of sample.