Measuring Microscopes
Equipment Details:
   Make  : Nikon
   Model :  MM-40
Technical Specification:
A) Optical Head: erect image trinocular; inclined 25 Degree from horizontal.
B) Eye piece - 1X (W.D; 79mm)
C) Range: 150mm up from the standard position.
D) Objective 5X, 10X, 20X, 50X, 100X.
E) Resolution: +/- 1 μm.
F) Response speed: 5 mm/sec.
G) Light source: 6V-20W halogen lamp.
H) Brightfield and Darkfield views for better imaging of the samples
Equipment Photo: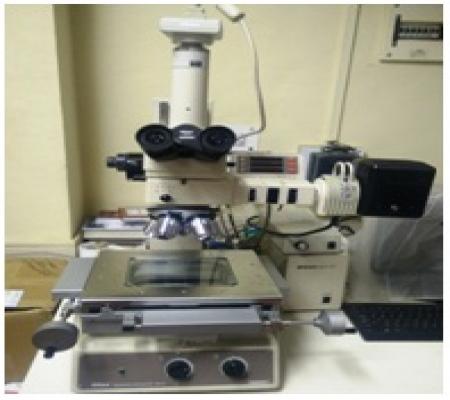 Applications:
Measuring microscope are widely used in industry as well as labs for samples from research and development, quality control, and inspection etc. Measuring microscopes are used for viewing the sample and making non-contact measurements of a specimen's X-Y axis or any planar dimension in the microscope field. It is mostly essential to do the optical inspection in the fabricated devices, substrates, films, etc.
Contact Person:
Dr G J Phatak (Instrument in charge) Office No: 020-25989273 ext 206
Email id: gjp@cmet.gov.in.
Working Principles:
The MM-40 compact body enables stage travel of 150mm on the X-axis, 100mm on the Y-axis and 150mm on the z-axis. A full line up of options such as two and three stage coarse/fine focusing knobs and handles, Monocular and Trinocular Optical Head, Z- axis measurements and focusing aids allows users to adapt the MM-40 to specific uses and budgets.