PIEZOCERAMIC ACTUATORS AND LTCC MATERIALS
Product Description:
Introduction:
Actuators are devices, which produce movement that can be controlled precisely. Ceramic micro-actuators are far superior compared to conventional actuators such as stepper motors or solenoids. piezoceramic based actuators offer the most cost effective, longer life solution that show repeatable results. To meet diverse applications that demand unique combination of performance parameters such as displacement, force, response time, input voltage and size, a variety of piezoactuator designs are adopted.
PIEZO ACTUATOR DESIGNS
The piezoelectric designs that have been realized at C-MET Thrissur are, bulk piezoactuators, Unimorph, Bimorph, Multilayer piezoceramic actuators, Multilayer electrostrictive actuators, Flextensional actuators and twin amplified actuators. Salient features of some of the piezo designs realized are,
Multilayer (ML) Piezoceramic & Electrostictive actuators
For applications that demand maximum force, minimum voltage and fast response ML actuators are exploited. Typical parameters are,
MAX. FORCE (3000 – 10000 N)
DISPLACEMENT: 2 to 10 µ
 LOW VOLTAGE (100-150 V)
  BEST RESPONSE TIME (0.1 ms)
  HIGH ELECTROMECHANICAL COUPLING k33 (70%)
  LIFE TIME HIGH (1011 CYCLES)
ML Stack Actuator
For applications that demand increased displacement with all other parameters same as ML actuator, ML stack actuators are used.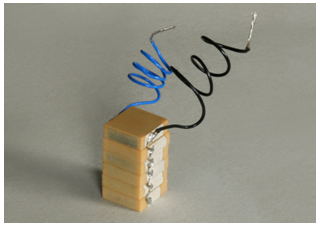 Bimorph actuators
For applications that demand maximum displacement and minimum force, Bimorph actuators/benders are used.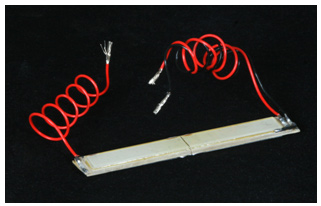 FORCE -  A few  N
DISPLACEMENT – 10 to 2000 µ
RESPONSE TIME (10 ms)
ELECTROMECHANICAL COUPLING k33 (10%)
LIFE TIME MODERATE (108 CYCLES)
Bimorph Mirrors
For precise & reproducible control of radii of curvature for the focusing of X-rays Bimorph based piezoelectric mirrors are exploited.

Flextensional Actuator
For applications that demand amplified displacement and reasonable force Flextensional/Twin amplified actuators are used.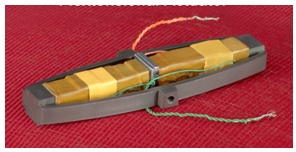 FORCE (20 – 1200 N)
 LOW VOLTAGE (100-150 V)
  DISPLACEMENT: 25 – 1000 µ
Twin amplified Actuator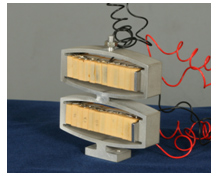 FORCE (20 – 1200 N)
 LOW VOLTAGE (100-150 V)
  DISPLACEMENT: Twice that of Flextensional Actuator
ML Ring Actuators
                ML ring actuators were also realized for specific strategic application. ML ring actuator of specific dimensions can be realized depending on the application.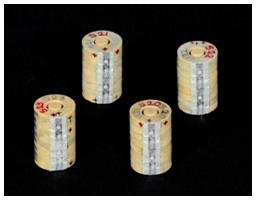 LOW VOLTAGE (70-150 V)
  STRAIN:  0.1 %
Applications
In general, various applications for piezoactuators include, Precise positioning, X,Y stage, XYZ and Theta precise control, microvalve, micro pump, injection system, vibration and noise suppression, linear and ultrasonic motors etc. Some of the major fields of application are given in table below.
Field

Applications

 

 

Mechanical engineering           

Positioning of tools, clamps, active wedges, Damping Active control, Generation of ultrasonic or sonic vibrations.

 

Microelectronics      

Positioning of masks, wafers or magnetic heads,                                           Non-magnetic actuation, Micro-relay.

 

Fluids    

Proportional valves, Pumps, Measuring, Injections,                                              Ink jet, Droplet generators

 

Optics

Positioning of mirrors or lenses, Focusing, Laser cavity tuning, Alignment or deformation of fibers, Scanners,

Choppers, Interferometers, Modulators

 

Electrical engineering          

Fast circuit breakers, Electrical power generators                                                   from mechanical energy

 

Automobile

Common Rail Diesel Injection (CRDi),                                             Multi point fuel injection (MPFi).

 
Other major fields of application include Underwater Sonar, Biomedical, Defence, Space and MEMS.
Future Possibilities
Multilayer benders, Piezo transformers and other piezo actuator designs.
II. MATERIALS FOR ELECTRONIC PACKAGING APPLICATION
Glass + ceramic Low temperature (900 oC) co-fired ceramic (LTCC) composition has been developed. The developed composition meets all requirements for LTCC application.  The picture below shows the LTCC tapes developed at C-MET, Thrissur.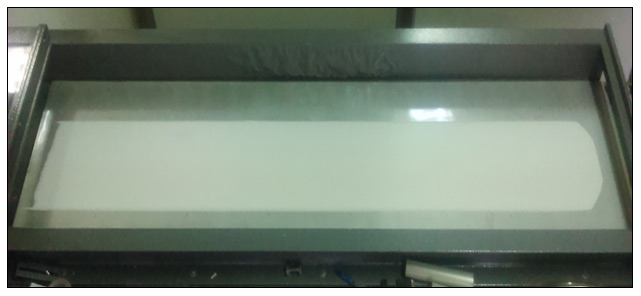 Currently work is being carried out on ultra low temperature (u-LTCC) compositions. The development of thick film Ag and Al based compositions for co-firing with LTCC/u-LTCC is under progress.