THERMO GRAVIMETRIC ANALYZER (TG/SDTA)
Equipment Details:
Make :  Mettler Toledo
Model :  851
Technical Specification:
| | |
| --- | --- |
| Furnace temperature resolution | 0.001 K |
| Temperature range | RT to 1200 °C |
| Temperature accuracy | ± 0.25 K |
| Heating rate | 1-30oC/min |
Equipment Photo: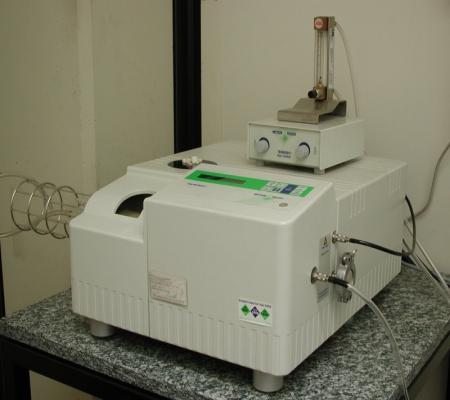 Applications:
Common applications of TGA are (1) materials characterization through analysis of characteristic decomposition patterns, (2) studies of degradation mechanisms and reaction kinetics, (3) determination of organic content in a sample, and (4) determination of inorganic (e.g. ash) content in a sample, which may be useful for corroborating predicted material structures or simply used as a chemical analysis. It is an especially useful technique for the study of polymeric materials, including thermoplastics, thermosets, elastomers, composites, plastic films, fibres, coatings and paints.
Contact Person:
I).
Dr (Mrs) Shany Joseph(Instrument in charge) Office No: 020-25989273 ext 207
Email id : shany@cmet.gov.in.
Characterization Incharge,  Office no 020-25989273
Working Principles:
Thermo gravimetric analysis is a technique that measures the mass of the sample while it is heated, cooled or held isothermally in a defined atmosphere. It is mainly used for quantitative analysis of the products. A typical TGA curve shows the mass loss steps relating to the loss of volatile components (moisture, solvents, monomers), polymer decomposition, combustion of carbon black, and final residues (ash, filler, glass fibre). The method allows us to study decomposition of products and materials and to draw conclusions about their individual constituents
Charges:
The charges for specific mode would be given below-
  1. Rs.770/-   (580/-)  upto 900 oC
  2. Rs. 990/-  (750/-)  above 900 oC
Note:  
The charges given in the brackets are concessional charges for academic institutions, Govt. Research institutions etc. and small scale industries. Proof is to be submitted for concessional charges.
Mode of  Payment :
DD payable at Pune in Favour of "C-MET" Pune either in advance or at the time of receiving the test report .